I am committed to participating in efforts to make knowledge collaborative and accessible, and one of the easiest ways to do so is through use of open educational resources (OERs), which are free of cost, open license, and usually widely accessible through digital formats. OERs include ebooks, Massive Open Online Courses (MOOCs), videos, and much more!
Below, you can read more about how I have utilized OERs in the following courses:
I have presented my experiences using OER resources and learned more about them through a summer institute at Indiana University South Bend dedicated to affordable resources. During that program, I shared my mostly successful use of an OER textbook in my introductory course Culture and Society.
The OER textbook I have been using in this course is called Perspectives, and the American Anthropological Association published it in 2017.
Benefits
I explain in class and on our LMS course page why I have chosen the book, to give students some background about it.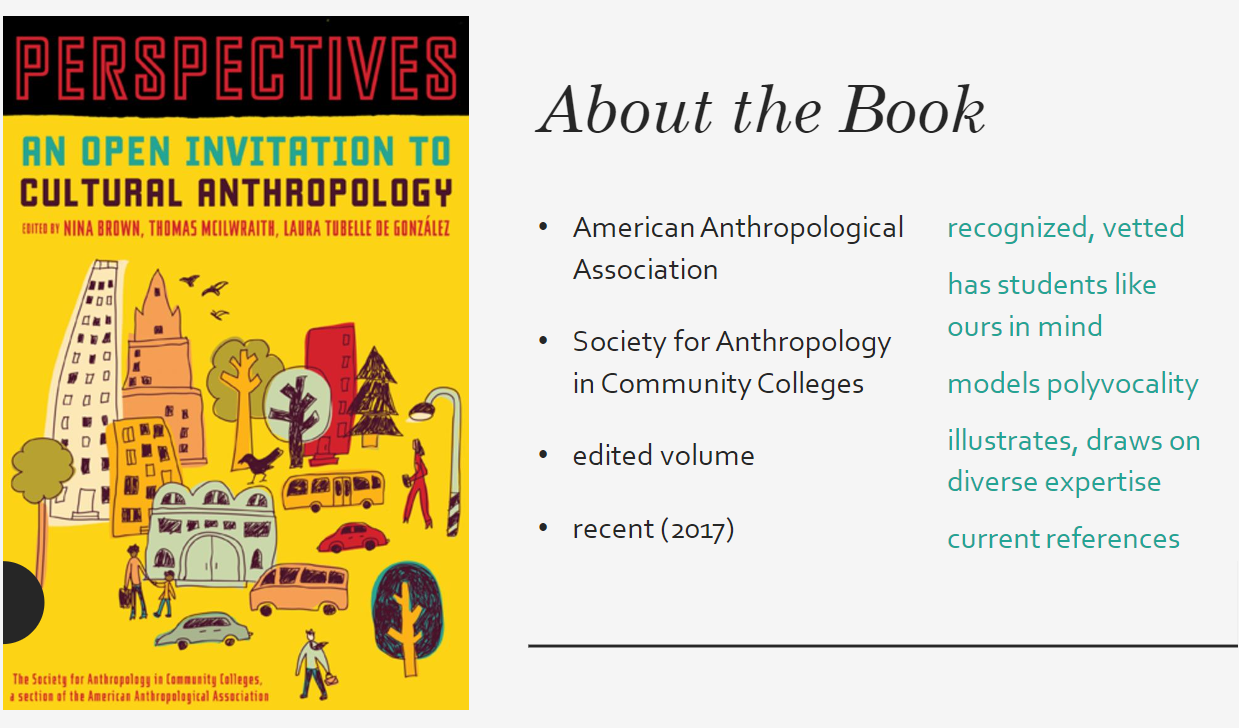 Below is some of what I share with students.
The (null) cost to you is one of several reasons I have chosen it for our course. Here are  a few others:
| | This means: |
| --- | --- |
| - | Each chapter has a different perspective (get it?) and draws on specific topical expertise and experience. |
| - | I think it also helps the text stay oriented toward undergraduate students like you, as SACC members are very dedicated to teaching a diverse range of people, often without prior anthropology experience. |
| - | We can mix-and-match and reorder the chapters easily. |
| - | It was published in 2017, so the references are relatively fresh, and the content reflects contemporary issues in anthropology. |
I assigned chapters from the OpenStax textbook Introduction to Sociology (2017), the BCcampus book Global Women's Issues: Women in the World Today by Aragon and Miller (2012) and two ethnographies:
These ethnographies provided in-depth examples of the lives of women facing challenges related to class, citizenship, participation in development projects, and more. I liked that students had the option to read the entire monographs if they wished to (or wish to do so later), and that the students gained a better sense of the range of resources available. We also used the exposure to different types of materials to discuss how to assess the strengths and weaknesses of various sources.
Students taking this course for Honors credit read one ethnography about environmental issues (their choice from a pre-approved list of OER books and ebooks in the campus library's holdings), then completed additional assignments based on their book. The assignments included writing a book review article, presenting a short synopsis to their classmates with a single slide, and discussing their thoughts in a casual book club setting with each other and me.
The students elected to read the following two OER ethnographies:
Next Up
In the future, I hope to develop PressBooks for some of my courses. I became interested in this content-rich platform after attending a workshop on the tool in 2018. Another goal of mine is to publish more of my own work as OERs, perhaps including YouTube videos or a digital textbook on one of my areas of focus.
To Learn More
I identified many of the books I have used through the Database of Open Access Books. But there are many other databases, resources, and tools available online, and you can also ask a librarian!
The Scholarly Publishing and Academic Resources Coalition (SPARC) has useful information about why OERs matter and how to get involved.