In Fall 2019, I taught a course about Gender and Development, in which we welcomed a guest speaker from a locally based non-profit focused on development, Malawi Matters. Based on student interest and on a commitment to community engaged learning on my part and on the part of the Indiana University South Bend campus, I worked with the founder of Malawi Matters, Phyllis Wezeman, student leaders, and others to plan and host a service and socializing event called Party with a Purpose.
The purpose was to chip away at one of the underlying factors preventing women and girls in Malawi from pursuing formal education: decreased mobility and increased vulnerability due to lack of menstrual supplies. Limited access to such supplies is an impediment to gender parity in education and makes opportunities inaccessible for women around the world, including in the US. These were connections students in the course made through their investigations, and also something Wezeman has observed firsthand.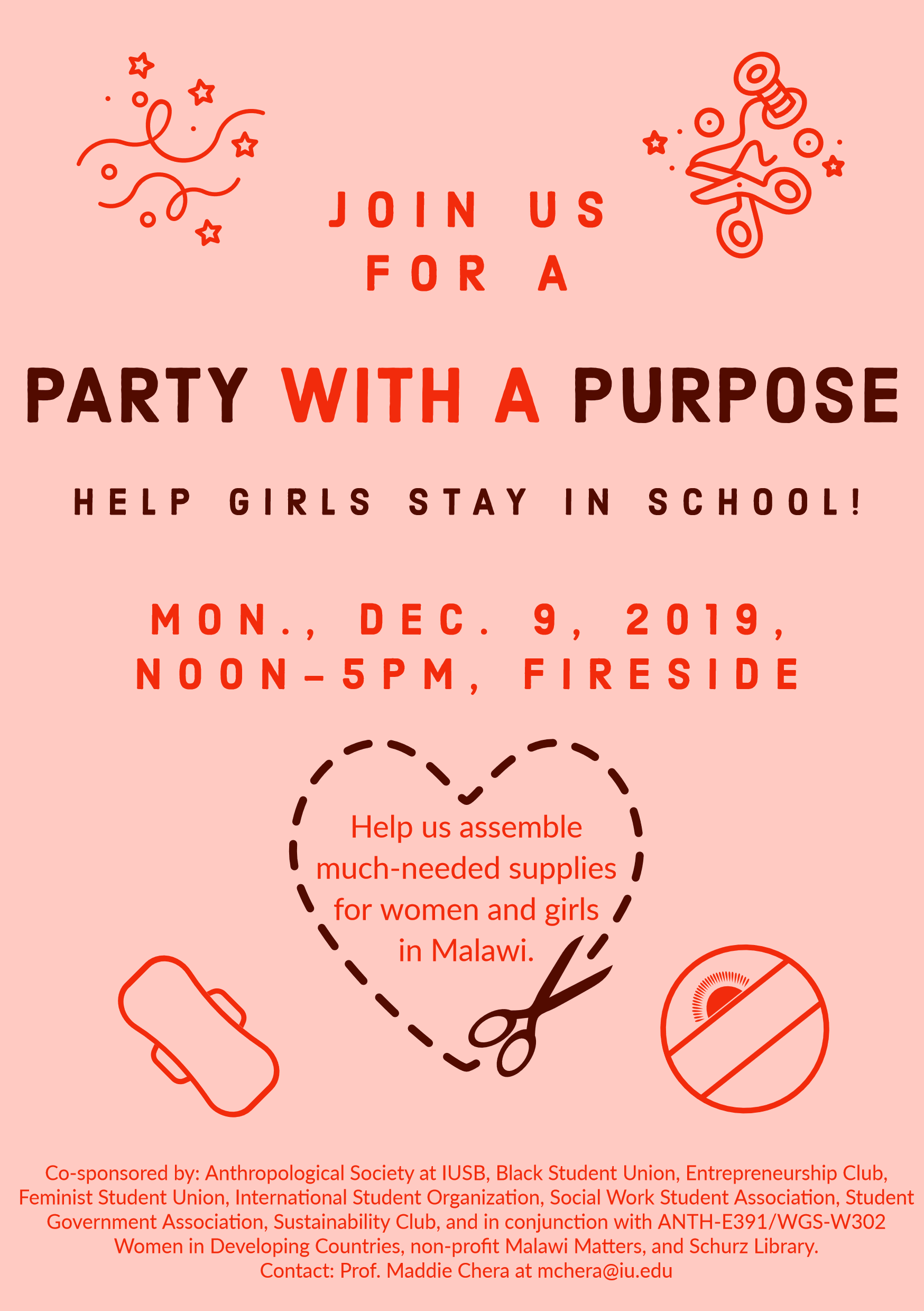 At our party, over 80 students, faculty, staff, and community members helped Malawi Matters cut, assemble, and sew 150-250 reusable pads for Wezeman to hand-deliver on an upcoming trip to Malawi. We also heard from a Malawian student and met the leader of a new organization working to collect and distribute supplies in the region near campus, One Month at a Time.
With eight student organizations co-sponsoring and support from various units on campus, the party was fun, effective, and a shining example of collaboration, engagement, and local action in global context.
Check out coverage by one of the students, who was also involved in promoting campus-community engagement more broadly at the IUSB Community Engagement blog.
And thanks to Wezeman, a student and I even appeared on the local news to talk about it before the event: